News
Outdoor entertaining areas are a quintessential aspect of the Australian backyard. These areas provide protection from the elements for countless hours of gatherings with family and friends. Investing in your outdoor living space provides years of enjoyment and is likely to add significant value to your home.
However, the design of your external living area is vital to its success!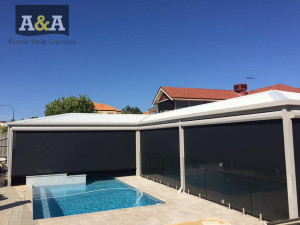 Creating a luxurious and protected outdoor space will mean you're much more likely to head outside and enjoy nature. Firstly, its important to note that your indoor and outdoor living spaces don't need to be separate! Many choose to extend their indoor living space to the outdoors, with the use of large retractable glazing, enabling a seamless transition into their protected outdoor area.
Depending on various choices for your outdoor living area, you could create an area that is resilient to weather and allows you to entertain year-round, or a space that is only mildly protected.
A simple pergola without any outdoor blinds has limited capability of protecting you from weather.
Alternatively, if you create an undercover area with a solid roof structure, and track-guided outdoor blinds, within moments you'll be able to fully enclose the space and protect your festivities from a change in the weather. These types of outdoor spaces are cooler in summer; blocking external heat and taking advantage of the coolness radiating from the house. You'll enjoy outdoor entertaining even in very hot weather!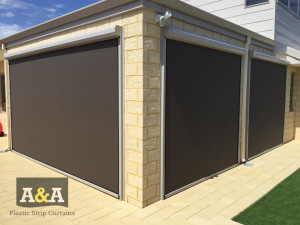 Even during the coldest winter months, with a fully enclosed area its possible to still enjoy outdoor entertaining. Track-guided outdoor blinds, such as a Ziptrak®, provide a high quality barrier from cold weather, depending on how you design the custom made blind. Ziptrak® blinds combined with outdoor patio heaters, or roof-mounted heaters are able to effectively warm the area, as the blinds trap a good degree of the heat.
The quality of your roofing structure and choice of track-guided blinds are major factors when trying to create an enclosed and protected outdoor living space.
PVC blinds which completely block wind and rain, are the perfect choice to maintain the view and keep the current temperature within the space. Ziptrak® Sunscreen Mesh blinds allow the area to breathe, with reduced wind flow that will still maintain warmth within the area during winter.
Channel blinds have material that sits unsecured within vertical channels. With slight wind, the blind material has the tendency to dislodge from the channel, not providing the wind or insect protection you're looking for! If you're trying to create an enclosed space, nothing is more effective than a track-guided blind.
Remember, privacy from your neighbours can also be a consideration, and vertical blinds installed to your outdoor area provide increased privacy when needed.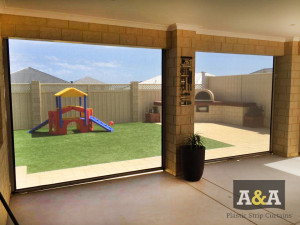 Finally, versatility is important when designing your outdoor area! When it's a beautiful day outside and you don't need protection from wind, rain, dust, sun or insects, simply push your blinds out of the way and enjoy nature at its finest!
Photo Credit:
-A&A Plastic Strip Curtains
-QCD