News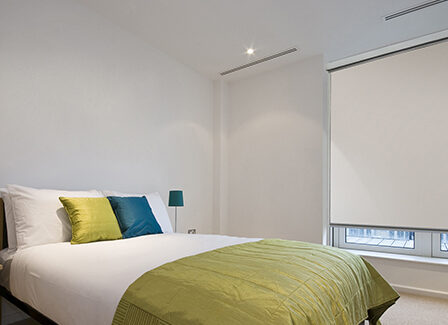 Tips & Advice
How to select the correct fabric for your Ziptrak® Interior
There are countless brands and types of interior fabrics available on the market that can be paired with the Ziptrak® Interior Blind System. The fabric selected is essential and will determine how well blinds meet your needs.
Before we start let me ask you a question, are you looking for privacy, heat reduction, glare control or perhaps total darkness?
Selecting the correct type of fabric to meet your requirements is important.  The most common interior fabric types are block out, screen and translucent.
Interior blockout fabrics
Block out fabrics offer complete day and night-time privacy, they are ideal for home cinemas, shift workers and families with young children.
100% light-blocking fabrics come in different thicknesses; 0.40mm thickness is considered a thin fabric while 0.70mm tends to be on the thick side. Thicker light-blocking fabrics have excellent insulation properties that can contribute to an energy-efficient home.
The back of a thicker light-blocking fabric has a white coating that reflects external light and reduces heat radiating into a room. This coating is present only at the back of the fabric, white is the most common but some brands also use coloured back coatings. The internal side of the fabric can have any colour scheme, there is a wide range of rich colours and beautiful textures available to match or complement your interior design.
Based on our experience, thinner block out fabrics in lighter colours such as cream or light grey can have a 'glow' effect from harsh external light sources. Although lighter fabric colours will block all external light, if utilised where intense direct sun or another external light source is present, the fabric may look like it is glowing. However, lighter coloured fabrics can provide good insulation for energy efficiency. Darker colours are considered the best for blocking all light but like a black car left in the sun, darker fabrics can absorb heat and radiate this into a room.
Blockout fabrics with back coating (0.70mm):  Palm Beach BO by Shaw Fabrics   |    Boston BO by Wilson Fabrics    |    Mantra BO by Shaw Fabrics    |    Broome BO by Wilson Fabrics
Blockout fabrics (0.40mm):  Vibe by Shaw Fabrics   |    Dawn by Uniline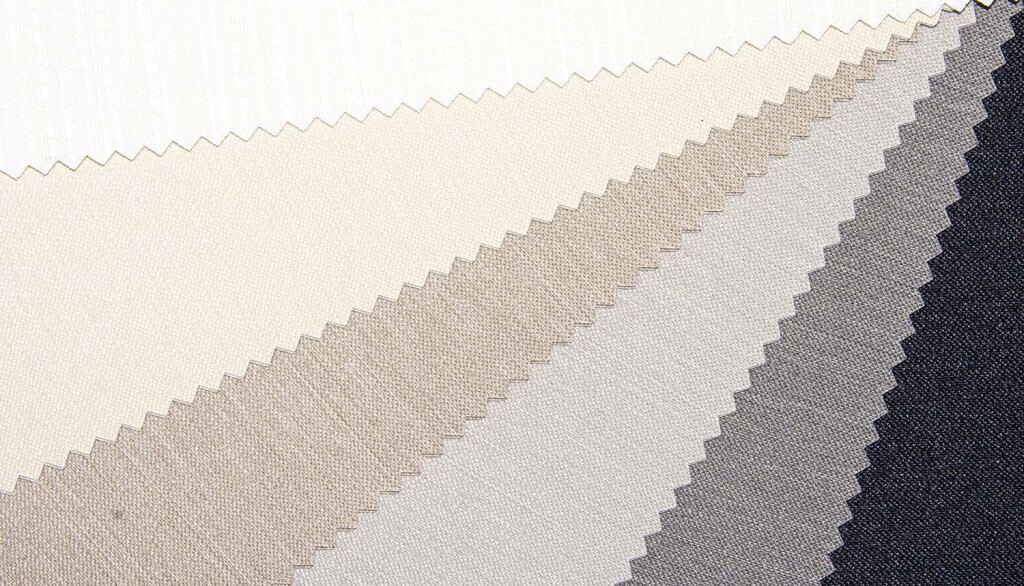 Interior translucent fabrics
Translucent fabrics, also known as light-filtering fabrics, are the perfect solution for daytime privacy. Keep in mind that while plenty of natural light will gently fill a room you will not see through the fabric. Translucent fabrics provide good shade and are efficient at stopping sun glare.
When deciding on what colours to use for a translucent fabric, consider that lighter tones might not be as good at blocking glare but will be significantly better at keeping heat out than a darker tone. This can make a difference when maintaining a cooler temperature in your indoor area during summer by using a lighter coloured fabric vs. a darker one. Traditionally used in bathrooms and living rooms, translucent fabrics allow heaps of daylight in, for a well-illuminated room while keeping it private during the day.
Translucent fabrics:  Le Reve LF by Shaw Fabrics  |   Boston LF by Wilson Fabrics   |   Mantra LF by Shaw Fabrics   |   Broome LF by Wilson Fabrics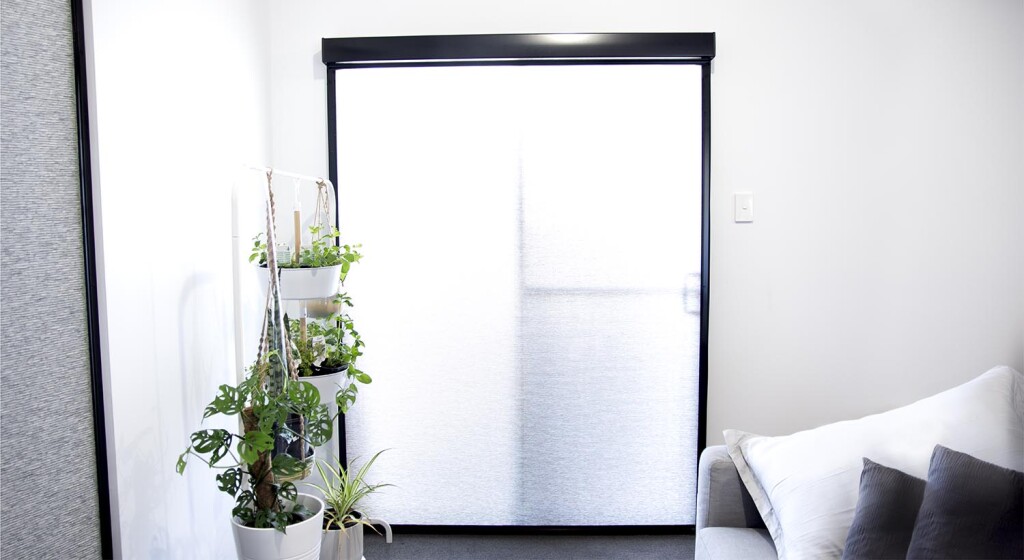 Interior screen fabrics
Interior screen or mesh fabrics provide uninterrupted daytime views and allow plenty of light. These fabrics offer glare and UV protection, shielding your furniture and flooring from direct sunlight. While screen fabrics are perfect to enjoy the view, these fabrics offer zero privacy at night, especially when internal lights are on.
Keep in mind that lighter tones of screen fabrics will have a reduced see-through view compared to darker tones. The darker tones are excellent at reducing glare but can heat up during the day and radiate into a room.
As a rule of thumb, lighter colours are ideal for heat protection while darker colours are best in delivering sharper views.
If you are looking for the best of both worlds (clear views, and glare and heat protection) you may have to compromise with an in-between colour such as grey.
Screen fabrics are available in different densities or transparency levels, also known as the 'openness factor of the weave', these determine the clarity of the view and can vary from 2% to 10%, e.g., a fabric with 2% openness stops more glare as the threads are closer together while a fabric with 10% openness offers better views.
Screen fabrics: Uniview Indoor by Uniline   |   SheerWeave 4500 by Shaw Fabrics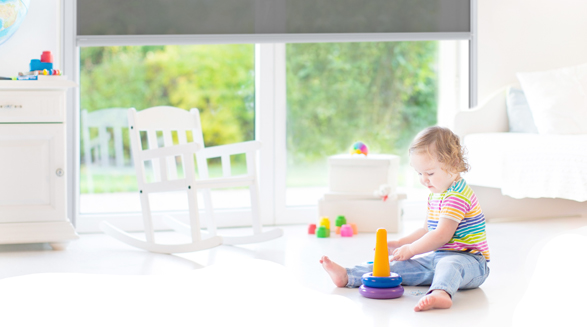 Quick summary
Block out fabrics are ideal for privacy and light-blocking.
Block out fabrics with white back coating are best for heat reflection and insulation.
Translucent does not mean transparent, these fabrics allow brightness and privacy during the day. Lighter fabric tones are best for heat protection.
Screen fabrics offer glare and UV protection but zero privacy at night. Darker fabric tones are best for glare reduction and sharper views.
Please speak with your Retailer for expert advice on choosing a fabric to meet your needs, Retailers have display blinds and fabric swatches that you can view and select what type of fabric will work best for your area.
Find your local Ziptrak® Retailer at: www.ziptrak.com.au/find-a-retailer
For more information about specific fabric properties and features, please speak with the fabric manufacturer. The fabrics used for interior blinds are not products of Ziptrak Pty Ltd.