News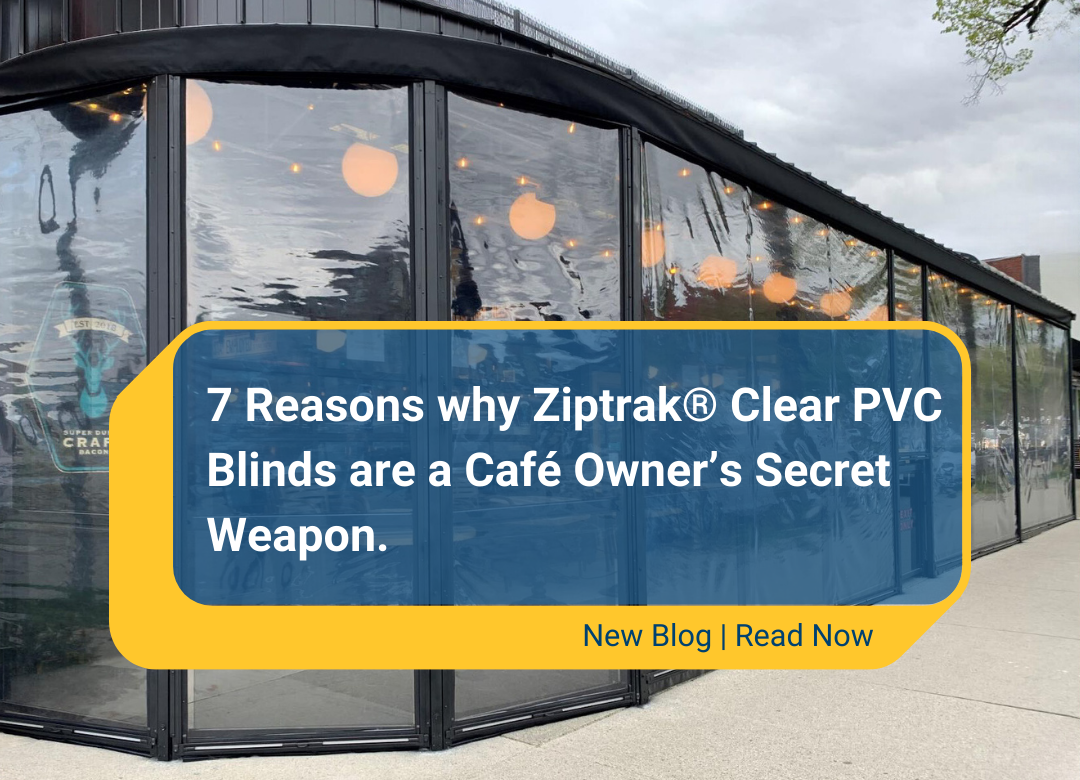 News
Outdoor Bliss Unleased: 7 Reasons why Ziptrak® Clear PVC Blinds are a Café Owner's Secret Weapon
Hello, café owners! We're excited to share seven invaluable insights with you about why Ziptrak® Clear PVC Blinds are the solution you've been seeking for your café or restaurant – the secret weapon that's poised to revolutionise your café experience.
As the original creators of track-guided blind solutions, we've had the privilege of witnessing firsthand how these blinds can transform cafés and restaurants into comfortable, all-weather sanctuaries.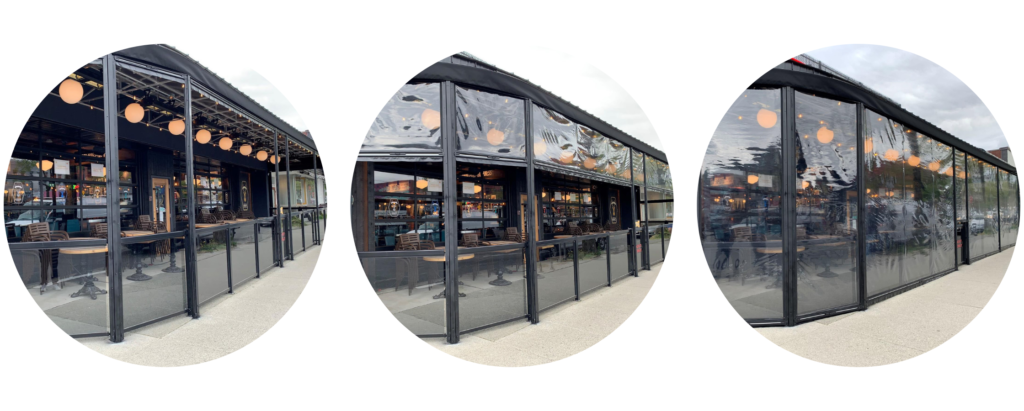 1. Understanding the Café Environment
Running a café brings its own unique set of challenges, doesn't it? The battle against unpredictable elements can throw a spanner in the works. Imagine this: your patrons are relishing a delightful moment on your waterfront outdoor dining area when suddenly, the wind picks up and the temperature drops. Not the picturesque café scene you had in mind, right? Enter Clear PVC Exterior Blinds – your café's defence against nature's curveballs.
2. Introducing Ziptrak® Exterior CLEAR PVC Blinds
Let's talk about the superheroes of the café realm – Ziptrak® Exterior Clear PVC Blinds. These aren't your ordinary opening coverings; they're the gateway to achieving the coveted all-weather excellence. Crafted from robust Dimensionally Stable Clear PVC and a full aluminium track-guided blind system, these blinds are engineered to weather the elements and provide an inviting ambiance for your café irrespective of how windy the day is!
3. The All-Weather Advantage
No matter the weather, Ziptrak® Clear PVC Blinds have got your café's back. These blinds are designed to craft a cozy haven for your patrons, regardless of the weather. Remember the day when a sudden gust of wind sent your outdoor menus soaring like confetti? With Ziptrak® Blinds securely in place, such scenarios become relics of the past. Heat or cool your space and rest assured that Ziptrak® Clear PVC Blinds will work with you to maintain a consistent environment in your café's outdoor dining space.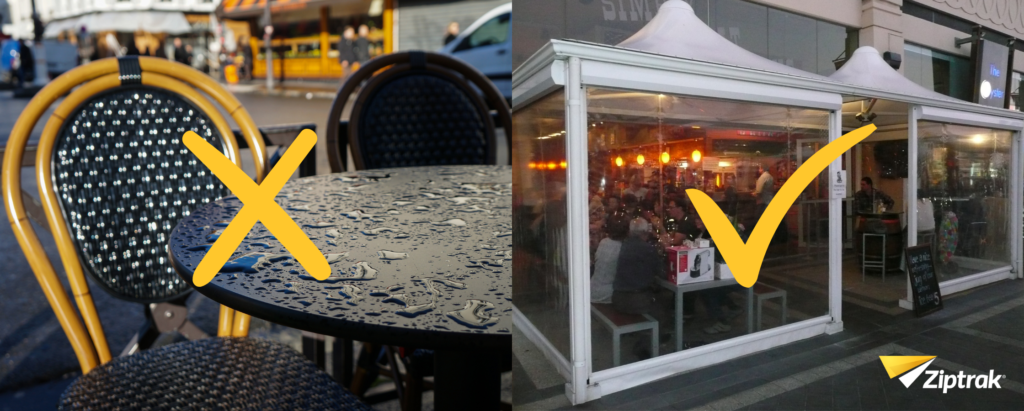 4. Engineered for Seaside Cafés
Be fearless when it comes to rust protection. Unlike others blind systems on the market, Ziptrak® Track Guided Blinds use a 'closed system', meaning only Ziptrak® engineered aluminium and components can be used. This ensures robust performance for years to come. In fact, you'll see seaside cafés across the globe trust Ziptrak® Clear PVC Blinds to protect and maximise their dining spaces.
5. Enhancing Aesthetics and Comfort
We truly understand your concern about preserving your café's unique aesthetic while prioritising weather protection. That's why Ziptrak® Clear PVC Blind frames come in a diverse array of colours and styles, seamlessly blending with your café's colour, design, and architectural needs. Our Clear PVC Blinds also offer a shield against UV transmission, ensuring your café's outdoor area remains cooler and more comfortable.
6. Practical Operation and Maintenance
Functionality is just as vital as aesthetics, isn't it? This is where Ziptrak® Clear PVC Blinds truly shine. The intuitive track-guided system ensures that your staff can effortlessly adjust the blinds. Cleaning them? A breeze – a quick wipe-down will have them looking inviting and fresh – we recommend Swiftee; our unique cleaning formula designed for all Ziptrak® Blinds and especially for Clear PVC Blinds.
7. Investing in Your Café's Future
Investing in Ziptrak® Clear PVC Blinds isn't just about the present; it's about expanding your capacity, securing your café's future prosperity. Think of it as an investment that yields dividends in numerous ways: increased capacity year-round, reduced energy bills, decreased furniture damage due to UV and weather, and an unparalleled customer experience that keeps your customers returning for more, no matter what the weather is doing that day. Ziptrak® Clear PVC Blinds allow you to increase your seating capacity – no squeezing tables away from the elements; customers can enjoy your venue right up to the edges. Dawn or sunset too brisk or windy for patrons? Not anymore, with outdoor dining spaces that change to suit the varying weather throughout the day.
Ziptrak® Clear PVC Blinds offer weather protection, style, comfort, and a savvy investment all in one package. So, why wait? Take the plunge and create a welcoming space that keeps your patrons comfortable and your revenue thriving. If you're as enthusiastic as we are (and we genuinely hope you are!), learn more about the full range of Ziptrak® Outdoor Blinds via our website. Ready to take the next step? Let us connect you with your closest retailer via our Find a Retailer page.
Let's work together to make your café the ultimate destination – rain or shine.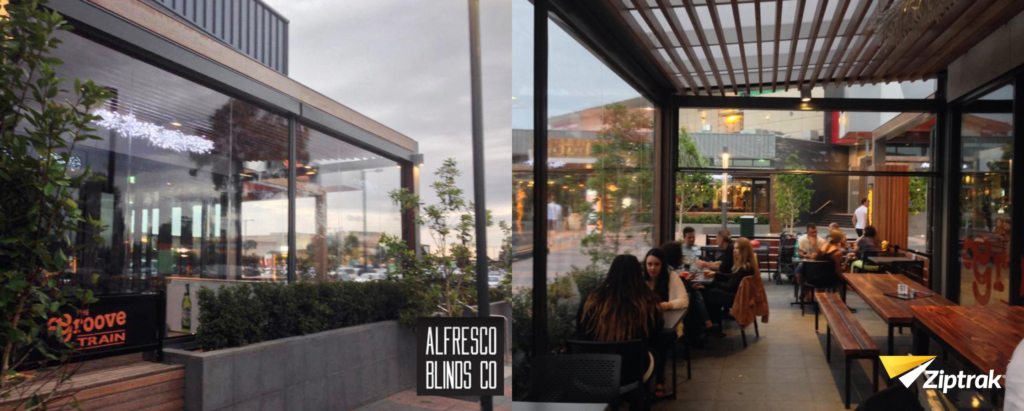 About Us:
We're Australia's favourite outdoor blinds experts, and we're proud to have pioneered the track-guided blind system using Clear PVC over two decades ago. If you're ready to take your café experience to the next level, connect with us on ziptrak.com.au– we're eagerly waiting to chat!
Follow us on Facebook, Instagram, Pinterest, LinkedIn, and YouTube for more inspiration and Ziptrak® real world examples.